A Complete, Intelligent, and Secure Solution to Empower Employees
Author: Harmeet Bhatia
What is important for a forward-looking organisation?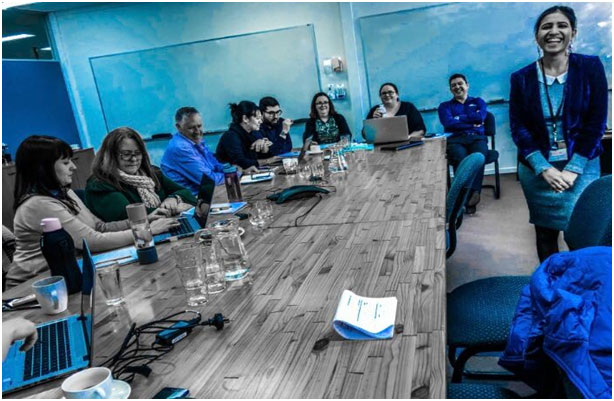 In the modern world it is imperative for organisations to be in-tune with the curve,successful and balanced, and constantly improving. Each organisation has a unique strategy inperformance and execution. Forward momentum can be difficult as several challenges such as various cultural behaviors, restricting policies, different processes and technologies, etc. may provide stalls in momentum. What consistently makes an organisation stand out above the rest? Well, in my opinion, there is no clear right or wrong answer. We can only hope for greater insight and clarity to help navigate our group to obtain the desired level of success.
4 Main Pillars to Organisational Success:
1.People: How engaged and motivated are your employees? It's important to enable via a culture of transformation and process – this encourages everyone to innovate and work together without being bound by traditional organisational structures. Technology is essential and a digital transformation within the office, facilitates connections between people and progress. The Modern Workplace is essential to building collaborative relationships that foster growth and success.
2.Technology: Provide the best tools and platform. The buzzword today is "Cloud." Encompass Modern Workplace for collaboration as well as the elimination of siloed applications. It's time to embrace asolutions package which provides needed tools under a single umbrella – a platform of apps under ONE login and password. Incredibly so, that simple change can lead to greater productivity and efficiency.
3.Security: More work is visible and accessible via the Modern Workplace platform. However, with Modern Workplace products, the data is Always encrypted and the administrator(s) can provide correct access, even at a basic level.
4.Market: It is paramount to understand current trends in the marketplace as well as be familiar with strategies that competitors use. Implementing best practices is always the goal. With Modern Workplace your team is able to innovate and work without geographical restrictions. Whether your group is on-site, remote, or virtual, everyone is able co-produce using the best available tools and information.
Modern Workplace is all about the 4 C's
Is it time for you to good bye to obsolete practices?
Change is necessary to advance and stay "modern."How can we constantly embrace the fluidity of change? Challenge yourself!According to Microsoft,we're in the "4th Industrial Revolution." The environment is aqueous with everything being "digitalised," and the wisdom and technical knowledge in which we take great pride is under constant strain of being outdated. On average, there are 36 different cloud services that an employee uses at work. Hierarchy and structure in an organisation is blurring since people are coming together in an agile way to accomplish tasks. Modern Workplace empowers teams to extend their horizons whilst appropriately dealing with internal and external stakeholders.
Technology can come anytime but brining people to come in term with the technology
Which Product to choose?
Modern Workplace is a hub (products, services and applications) bringing together teams. Each and every product has its own benefit. At a recent training I was delivering, one of the trainees couldn't quickly troubleshoot sharing a link with his fellow colleague (their normal email system was down). For me and without hesitation, Skype immediately came to mind. I can't imagine working without Skype!It's amazing how once we start using a technology we get so dependent on it that we can't imagine the world without it!
Out-of-the-box applications are available and ready for entire organisations to use simultaneously. It all depends on the work style! Initially, it might seem daunting how to choose the best and most strategically aligned tool but that convolution will fade away if we keep the end goal in mind and keep focused on what you are trying to achieve.
Mindsets of work varies from person to person. For example, people coming from an older school of thought find emails the most convenient means of communication. However, for the modern worker, everything is within reach and quickly accessible via the latest tech apps (as can be seen in search, thread chat, and bot functionality of Team App).
Modern Workplace can be used for both structured and ad-hoc ways of working. Usage determines who the consumer of information is and at what level. This example will showcase how each of the 5 layers of collaboration within Modern Workplace are utilized; at an individual level One drive for business can be used; MS Teams is a great second layer option to exchange files and have conversations through various channels within the app; thereafter, Team and Communication Sites under Hub Sites could be used within SharePoint followed by an organisation's Intranet;as a fifth layer, Yammer is a superb network tool to impart knowledge and information at an executive level.
Choose the one that adds value, which makes your work life convenient and work easy!