Author: Gordon Lewis

Issue: Project Timeline View not visible in Project site or Workspace in Project Online

In Project Online the Project Tasks from the schedule are not automatically synchronised with the Task List on the Project site.
This feature is turned off by default in Project Online and needs to be turned on to get your tasks in your schedule to be displayed on the Project Site or Workspace.
To turn this synch on this is done in PWA settings > Connected SharePoint Sites.
Select the site and click on Project in Project Online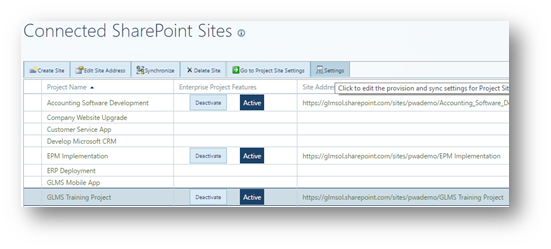 Make sure the sync Enterprise Projects tasks to Task List is ticked.
Now Build the Timeline view for the Project by editing the Project in Project Web App or MS Project in Project Online by adding tasks to the timeline view
Save and Publish your Project

Your timeline view is now visible in the Project Site/ Workspace
GLMS Australia Pty Ltd ®
Project Online and Office 365 Consulting and Implementation Specialists