What is a Content Type Hub?

A Content Type Hub will help you manage content types centrally and publish content types to sites in your SharePoint Farm.
How to Configure a Content Type Hub?

To configure a Content Type Hub you will need the following:
A SharePoint Site create off a Team Site Template. In my example I am going to create a SharePoint Site to be hosted under something like this
Creating a Content Type Hub requires the following pre-requisites.
Web Application is created and available to host the site collection
Managed Metadata service is configured.
Step 1: Create a site collection under the main site.

You could use the UI to create the site collection or run a script as below but tailored to your environment:
# Create Sub Site Collection Content Type Hub
New-SPManagedPath '<managedpathname>' –HostHeader –explicit

New-SPSite '<Site Url>' -HostHeaderWebApplication '<Web Application Name>' -Name '<Site Name>' -Description '<site Description>' -OwnerAlias 'domainaccount' -language 1033 -Template 'STS#0'
Example
New-SPManagedPath 'cthub' –HostHeader –explicit

New-SPSite 'https://ecm.lewis.com/cthub' -HostHeaderWebApplication 'https://PPM2013' -Name 'Content Type Hub' -Description 'Coliban Content Type Hub' -OwnerAlias 'Lewissvc_SPSA' -language 1033 -Template 'STS#0'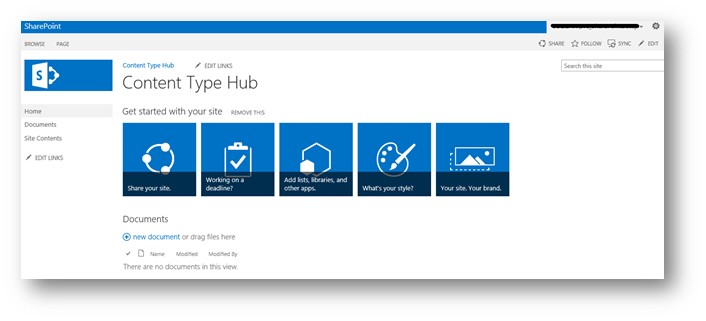 Once the site is created Go to site Settings by clicking on the wheel in the top right corner

Under Site Settings > Site Collection Features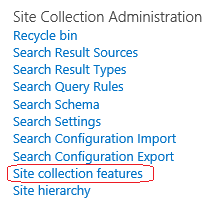 Look for the Content Type Syndication Hub feature and Activate

Once activated you should see the Active status highlighted

You should be able to manage the Managed Metadata Term Store by going to Site Settings > Site Administration > Term Store Management
Managed Metadata Service will need to be setup and running on the SharePoint Farm